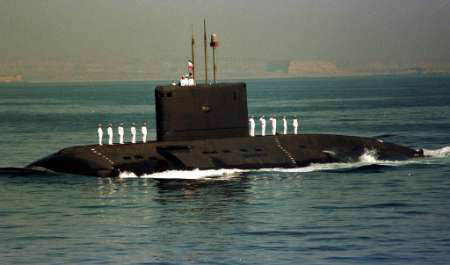 As reported by Fox News,
Iran completed a torpedo missile test
. It appears that Iran has "upped the ante" just days after it completed missile tests.
Do we blink and bow, or do we take action?
The next few weeks will prove to be interesting in world of international diplomacy. Who knows just what the next action might be. What is absent in this global chess game is North Korea's involvement, or, the lack thereof. Perhaps President Bush should be having a conversation with President Putin about this. Wonder if he knows anything?
Tehran claims the high-speed "Hoot" torpedo it tested is capable of speeds of 223 miles per hour and can be used form taking down large warships and submarines according to General Ali Fadavi, deputy head of the Revolutionary Guards' Navy. Fox News indicated that the Hoot torpedo may be three or four times faster than a normal torpedo and possibly comparative to the world's known fastest; the Russian-made VA-111 Shkval. Of course, it is not known if the Hoot is based on the VA-111 Shkval.
It should come as no surprise at this latest development as it was already mentioned in Wikipedia
. (
Fox News
)
The
VA-111 Shkval
(from
Russian
: шквал - "squall")
torpedo
and its descendants are
supercavitating
torpedoes developed by the
Russian Navy
. They are capable of speeds in excess of 200
knots
(approximately 360
km/h
) and are considered far deadlier than any standard torpedo system fielded by
NATO
. Other countries, including the
United States
and
Germany
have set to work in their own supercavitating torpedo designs, the latter having produced a prototype as of
2004
named the Barracuda. It is also claimed that
China
has
purchased 40 examples of the VA-111 system from Russia, although these claims have yet to be officially verified.
Iran has also claimed to have carried out a successful test of such a weapon.
(
Wikipedia
)
FAS concluded in an article that the VA-111 Shkval
travels at a velocity that would give a targeted vessel very little chance to perform evasive action. The missile has been characterized as a "revenge" weapon, which would be fired along the bearing of an incoming enemy torpedo. The VA-111 Shkval may be considered a follow-on to the Russian BGT class of evasion torpedoes, which are fired in the direction of an incoming torpedo to try to force an attacking to evade (and hopefully snap the torpedoes guidance wires). (
FAS.Org
)
There are three variants of the VA-111 Shkval
VA-111 Shkval - Original variant; believed to be unguided (or perhaps tracking but largely unmaneuverable)
"Shkval 2" - Modern variant; believed to be guided, possibly via the use of vectored thrust, and with much longer range.
A "lite" version currently being exported to various world navies. (Reference.com) (One has to wonder)
Fox News Video of the Iran Missile Test
In 2002 middle East Media Research Institute (MEMRI) published an article, Iran's Armament - A Central Element in Establishing Itself as a Regional Superpower By Ayelet Savyon, which outlined Iran's ambitions and its allies in it's quest to be a regional superpower. So, these latest developments should come at no surprise.
Iranian - Russian Cooperation on Conventional Arms:

Since the cutting off of American military supplies to Iran following the Islamic Revolution, and the sanctions posed by the U.S. on commerce with third party companies (The Iran Libya Sanction Act (ILSA) was renewed by the Bush Administration August, 2001. )

Iran began to rely primarily on Soviet and Russian made weaponry. ( See Iranian and Russian statements regarding this issue: "In the last few years Russia has become Iran's primary arms supplier." Afarinsh, February 19, 2002; Norouz, February 20, 2001; Tehran Times, February 17, 2002. )

From the Russian point of view, its cooperation with Iran is helping rebuild the Russian military industry (including Research and Development of strategic weapons) which has faced financial difficulties emanating from the end of the Cold War. Russian President Vladimir Putin expressed public satisfaction regarding the cooperation between the two countries on this issue. ( IRNA, October 17, 2001. )

During their separate visits to Moscow, both Iran's President Muhammad Khatami, in March 2001, and Minister of Defense Ali Shamkhani, in October 2001, signed military cooperation agreements and arms deals with Russia valued at $7 billion dollars over the coming years. ( IRNA, October 1 and 4, 2001; December 17, 2001. )

Iran and Russia have arms contracts dating back to the 1990s, when Iran received over one hundred T-72 tanks from Russia and even began indigenous manufacturing of tanks upon obtaining Russian license. Iran was also equipped with artillery, anti-aircraft and air-defense systems, armored vehicles, Mi-17 helicopters and other military supplies. ( Jane's Defense Weekly, November 28, 2001; Ze'ev Wolfson, "The 'Russian Factor' in the Middle East Military Balance," Ariel Center for Policy Research, no. 133, pp. 19-20. )

In 2000, Iran made a strategic decision to modernize its military build-up in a twenty-five year program, relying on Russian technology and weaponry. ( The agreements signed in 2001 practically nullified "The Gore-Chernomyrdin Agreement' signed in 1995 between the U.S. and Russia aiming at limiting the sale of Russian conventional weapons to Iran. With the change of administrations in both the U.S. and Russia in November 2000, Moscow announced that it is no longer committed to this agreement. Shamkhani also said that the arms contracts, which were signed with Russia, are considered as "cancellation of the imposed Gore-Chernomyrdin pact" and "open a new chapter in the constant and long term cooperation between the two countries." IRNA, October 6, December 17, 2001. )

The program includes the following elements:

The creation of an integrated anti-aircraft and anti-missile defense system, including the anti-aircraft missile system S-300, and aerial defense system of medium and short-range missiles (SA-11, and SA-15 respectively); the creation of an aerial defense system for the defense of nuclear and military facilities; the licensed production of weapons – artillery, airplanes, and warships; modernization of aircraft and aviation equipment, and modernization of three Kilo-type submarines purchased from Russia. The plan also calls for the establishment of training, repair, and service centers for Iran's land, sea, and air forces; a space program with the goal of launching six satellites; and the training of hundreds of military and technical experts in Russian training facilities. ( See reports about visits of high-ranking military navy and air-forces delegations, IRNA, October 4, 2001; Shamkhani announced that Iran is building double-deck warships and torpedo boats in addition to the development of a marine missile industry, IRNA, February 13, 2002; Rasalat, January 14, 2002; Tehran Times, February 17, 2002; Ze'ev Wolfson, "The "Russian Factor" in the Middle East Military Balance," Ariel Center for Policy Research, no. 133, pp. 20-21. )

A close examination of the program indicates that Iran aspires to establish a powerful industrial-military complex, which will also be used for manufacturing weapons for export. ( Former Iranian president Hashemi Rafsanjani made conflicting statements in this regard: in the Tehran Times he said, "Iran today is one of the leading arms industry powers in the world," January 8, 2002, and in IRNA, he denied the fact that Iran "[sells] weapons and is not interested in arms sale," January 6, 2002. ) ( MEMRI, March 26, 2002, Special Dispatch No.89 )
Guess the news is finally waking up to the realities and gravity of the situation. The indicators have been there for a long time. One has to wonder what motivations and behind the scenes moves Putin and his government has done to helescalatete this situation?
News from around the globe on the growing concern:
Technorati tags:
Iran
,
Germany
,
Russia
,
China
,
United States
,
Hoot Torpedo
,
Tehran
,
VA-111 Shkval
,
Torpedo
,
Submarine
,
Missile test
,
International diplomacy
,
Chess
,
Strategic
,
Superpower
,
Vectored thrust
,
Supercavitating
,
Central Asia
,
Putin
,
Warhead
,
Condoleezza
,
Weapons
,
War plans
,
Tomahawk
,
Nuclear
,
Opinion